Systematic Teaching with Applied Results
New Horizons Academy's STAR Program is a full-day Preschool and Kindergarten program. We focus on foundational skills necessary for your child's future education. Your student's day is filled with a variety of activities that promote skills so that they learn naturally.
Specialized programming allows students to rotate through classes gaining foundational skills. Structured set-up within each room helps develop consistent expectations for your child. In this focused environment they are supported by a Board Certified Behavior Analyst (BCBA) who oversees all aspects of your child's educational growth and development. Our BCBA also supervises our Ohio licensed staff delivering targeted instruction in Language and Literacy, Foundations in Math, Fine Motor and Handwriting, and Play and Social Skills.
Student Supports with Applied Behavior Focus
Positive reinforcement for skill acquisition
Visual schedules and visual supports for expectations and routines
Differential reinforcement for appropriate behavior
Modeling skills
Breaking down skills into small steps
Data-driven decision making
A STAR program student's day is filled with many activities to promote generalization of skills in a natural way. In the first portion of the day, children visit multiple classrooms with a main focus in each classroom.
In these classes children complete activities targeting individual needs with the goal of completing independent activities. The second portion of the school day revisits all of the concepts taught in the morning rotations using a more natural, less intense approach such as during specials, circle time, and group games.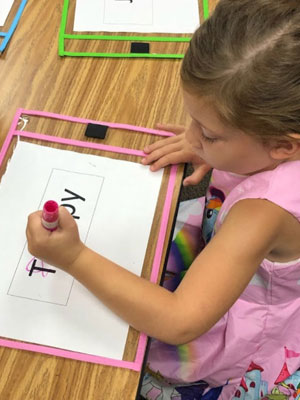 Is New Horizons Academy right for my child? Call Us Today!