Welcome to New Horizons Academy at Sara's Garden.
"If a child can not learn the way we teach, maybe we should teach the way they learn."
New Horizons Academy at Sara's Garden offers a holistic, all-encompassing educational path for children who have special learning needs and are preschool through grade twelve. Our mission is to provide the highest quality educational and intervention programming available and empower children with disabilities to reach their full potential.
New Horizons does not solely focus on any one area of development; rather, each developmental domain (social, emotional, communicative, physical, and cognitive) is developed simultaneously throughout the school day. Great importance is placed on setting high goals and expectations and providing students with the appropriate assistance required for them to achieve their individual goals.
Providing an academic curriculum that is challenging is of utmost importance, while simultaneously discovering and exploring the ways our students are best able to access that curriculum.
NHA serves over 140 students from 37 school districts across Northwest Ohio between its Wauseon and Holland campuses.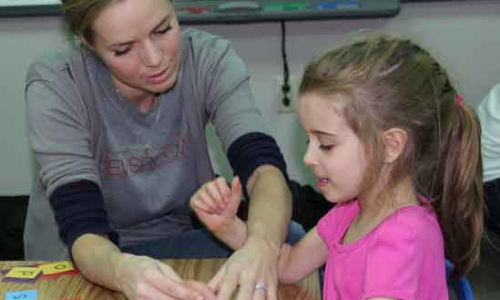 AUTISM INTERVENTION
Autism Intervention attempts to lessen the deficits and abnormal behaviors associated with Autism and other Autism Spectrum Disorders (ASD), and to increase the quality of life and functional independence of Autistic individuals. Treatment is tailored to meet each child's specific needs.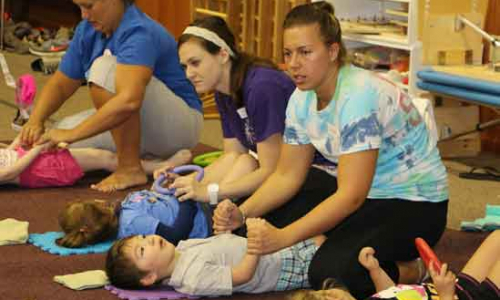 CONDUCTIVE EDUCATION
Conductive Education is an intensive and holistic approach to educating children and adults with neuromotor disabilities. CE combines physical activity with cognitive tasks, emphasizes communication, and places the individual in a group setting which maximizes active learning.
Occupational Therapy is an allied health profession that focuses on teaching skills for everyday living. The practice of OT can greatly vary according to the setting and clientele. OT can assist to address issues at school, home or work which may be impacting someone's day to day function.
SENSORY INTEGRATION
Controlled sensory input has been shown to be effective in reducing stress and improving concentration, eye-hand coordination and motor function for children and adults, developmental disabilities, autism, chronic pain, stroke, traumatic brain injuries, and other conditions.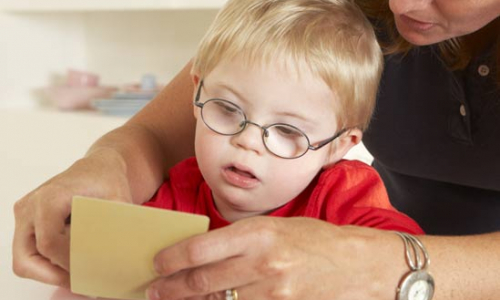 Many conditions may cause difficulty with speech and language development. Speech Therapy (also known as Speech-Language Pathology) works to prevent, assess, diagnose, and treat speech, language, social and cognitive communication, and swallowing disorders.
My son has been a totally different child since attending New Horizons Academy. He has come out of his shell and made new friends in addition to having remarkable success in his academics. I can never say enough great things about what this school has done for my son!

I would like to express our gratitude to the New Horizons Academy staff. Their kindness and compassion that they show on a daily basis has given us back our happy boy. For many years he was expected to be a square peg in a round hole. He shed many tears and endured endless frustration. He struggled every day and dealt with the affects of many different medications that he had to be on just so he would "fit" into everyone else's mold.

It continues to amaze me day in and day out the impact your school has had on many kids. We are continually grateful for all of the wonderful things your staff does to make ever child feel appreciated and loved.  Never before have we seen our son so excited about school and so eager to share. Thanks again for everything that you do to make every child feel loved and welcomed.

Thank you from the bottom of my heart. You are making such a difference not only in my son's life, but in so many other lives as well.

Since my daughter has started attending NHA, I have noticed an increase in her verbal and reading skills and I appreciate that so much! She obviously like attending school at New Horizons and I hear from her that she has even made friends! She is doing so much better than when she was at her last school.

Since our son began attending school at NHA, there has been no looking back! We now have a boy who loves school, has developed great social skills, and finally feels a sense of belonging. Not to mention, he is excelling academically. We as a family would like to thank New Horizons Academy for giving us this opportunity. We also highly recommend this program to others. Thanks again New Horizons Academy for allowing our child to blossom!

I shed tears of joy as I think about our time at New Horizons and Sara's Garden. God has been good to us, and I remember Pastor Horning saying at the dedication how amazing it was that such good can come out of tragedy! Never a truer statement has been made, both for your families, and for ours. God bless your work as you continue in this amazing journey!

I have never seen a group of people work so efficiently and yet have all the time in the world for each persons need , even if it was just a simple conversation. We have made so many new friends and realize how beneficial it is to our family to be surrounded by people who can see our struggles and love us anyway!

Our daughter loves every day at New Horizons Academy and says not one single moment is boring! She even wishes she could go to school on the weekends and holidays. Since the beginning of school this year, we have watched our daughter change from a child with little motivation to a smiling girl eager to learn. New Horizons Academy is the perfect place to learn!

I would like to thank the staff at New Horizons Academy for restoring our faith in our son's ability to go to school. Our son has showed major improvement since joining NHA. The way the staff handles his issues with care and understanding is incredible. Coming from an environment where our son was unable to thrive, the staff at New Horizons has the ability and patience to redirect him and get him calmed down and back on track. We would highly recommend New Horizons Academy to anyone.

Thank you so much for allowing me to observe New Horizons Academy. Every person I met during my visit was so kind and welcoming. I've seen many schools over the years that are geared towards children who are differently-abled. New Horizons was probably the most loving and most peaceful school I've ever witnessed. You and your staff and students have created something special!
Why New Horizons Academy?
A whole new way to look at school.
STUDENT DEMOGRAPHICS (% Served)
The educational labels listed above are based on the Ohio Department of Education's Autism and Jon Peterson Special Needs Scholarship special education categories for children identified on an Individualized Education Program (IEP).
NHA is Enrolling Now for 2019/20. Call Us Today!
Support New Horizons Academy